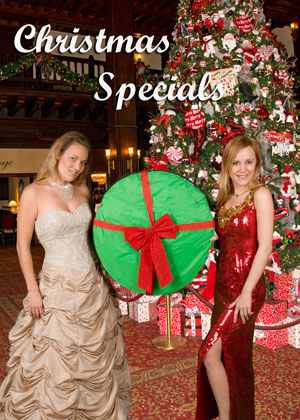 Green Screen Software (Chroma Key Software) for Replacing Green Screen Background on Photos
Get your own Green Screen Studio for the Holidays!! Just add a camera and some studio lights and you have everything you need to setup a professional Green Screen Studio. You get: A copy of Green Screen Wizard Pro Studio with editor (normally $199.95), Essential Background DVD (normally $69.95), Christmas Backgrounds with Snow Globes (normally $30), Ken's Sandwich Overlay Collection (normally $39.95), and Portrait Mega Disk (normally $49.95). Special price is just $240 (SAVE $150!!). Click to learn more now!
Give them the Green Screen Wizard Holiday Gift Special for only $79.95! (Save $104!) The Holidays are a great time to do Green Screen Photography and Green Screen Wizard is fun for the whole family! Everything you need is in the Green Screen Wizard Special Getting Started Kit! It contains: a copy of Green Screen Wizard Lite a $50 value, a 5x7 Popup Screen a $34.95 value, the Essential Background DVD a $69.95 value, and the Christmas Backgrounds Collection with Snow Globes a $30 value. Click to check out the most affordable way to do green screen photography!
Take $40 off your purchase of Green Screen Wizard Pro v8
Take $40 off your purchase of Green Screen Wizard Pro v8 which includes as a FREE BONUS -- 4 Special Effects Background Image Collections! Just enter coupon code SAVE40PRO during checkout. Expires 12/31/14
The coupon below can be used on any software and background purchase and even on the Holiday bundles above!!
Happy Holiday Savings at Green Screen Wizard! Take 25% off any software or background disk purchase at Green Screen Wizard, where it's easy to get started producing green screen effects for photography and video! Just enter coupon code GSPP25Holiday during the check out process. This coupon code is valid NOW through 12/31/15. Visit Green Screen Wizard now!
| | |
| --- | --- |
| | NEW!! Green Screen Wizard Pro Studio Editor 8.0 puts ultimate flexibility and quality at your fingertips. For the professional photographer and the serious hobbyist. Impress your friends and clients with your artistic images -- learn more now and try a FREE DEMO |